Frequently asked questions

Coming to
the Montreal Counter?
That's great! We're asking Counter customers to reserve a time slot in advance. This is one of the ways we are working to keep our customers and staff healthy and safe during Covid-19. To book a time, simply call us or book an appointment online.
 
Vous venez nous rendre visite
au comptoir de Montréal?
Fantastique! Nous demandons aux clients du comptoir de réserver une plage horaire à l'avance. C'est l'une des façons dont nous travaillons pour garder nos clients et nos employés en santé et en sécurité pendant la pandémie de COVID-19. Pour réserver, il suffit de nous appeler ou de prendre rendez-vous en ligne.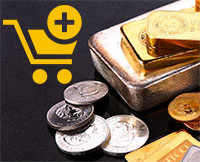 How to buy gold coins, silver coins, gold bars, and silver bars from Kitco. A guide for beginners.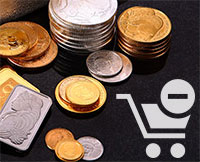 How to sell precious metals coins and bars to Kitco. Follow these instructions If you are looking to sell scrap of precious metals
MORE QUESTIONS?
Haven't found what you are looking for or have a comment for us?
We'd love to hear from you!
Fill out our feedback form and we will respond within 24-48 hours.
Your Kitco Account

Bullion Products

Kitco Services

Shipping & Returns

For the last 40 years, Kitco has been providing its customers with industry related news,  free market information, bullion bars and coins for personal investments, and refining services.
Whether you are looking for market information on precious metals, currencies, or other commodities, Kitco provides articles, real-time data, and free mobile apps to keep you informed. Never miss a market move by getting notifications right on your mobile device using our free Market Alerts  application.
Ready to diversify your investment portfolio with precious metals? Kitco offers bullion bars and coins in gold, silver, platinum, palladium, and rhodium. Amongst these are highly reputable Mints and Refiners from around the world, including the Royal Canadian Mint, The Perth Mint of Western Australia, and the US Mint. Choose amongst the ever-popular Canadian Maples, American Eagles, Vienna Philharmonics, and South African Krugerrands and many other coin options. Kitco offers precious metal bullion bars from a variety of Mints and Refiners and allows you to purchase in different weight ranges. Starting from 1 oz up to 400 oz, you are sure to find  suitable bullion bars for your investment needs. If you are interested in other ways of holding precious metals, Kitco offers Allocated Storage options to keep your precious metals secure, VaultChainTM Gold and Silver as a way to gold metals through blockchain technology, and, unique to Kitco, Kitco Unallocated Pool accounts are also available to you.
Since 1977, Kitco has offered refining services to its customers. Kitco purchase scrap precious metals from companies related to the precious metal industry such as jewelers, antique dealers, dental laboratories, and pawn shops. Recycled precious metal including jewelry, non-industry standard bars, and dental gold are just some of the items Kitco can offer refining services for.