Why You Should Store Your Metals in the Cayman Islands
As a precious metal investor, keeping your gold and silver safe is a priority
Storing a portion of those holdings offshore is a sensible way of reducing risk and ensuring security, while retaining your privacy and confidentiality. Strategic Wealth Preservation (SWP), offers investors the opportunity to store their precious metals in a premier offshore jurisdiction.
The Cayman Islands
Cayman is hands-down the most advanced country in the western hemisphere with regards to wealth preservation. It enjoys both political and economic stability and is one of the only countries in the world that has no direct taxation of any kind. There is no import, export or any other tax on the purchase, sale or storage of precious metals there.
A better choice
The financial industry is Cayman's lifeblood and, as such, economic freedom is understood by both its government and its people to be essential for mutual prosperity.
Keeping your metals within reach
The chances are, if you live in North America, you can reach the Cayman Islands in just a few hours. They are an English-speaking island and share the same first-class infrastructure and cultural values as you do. They even accept US dollars.
---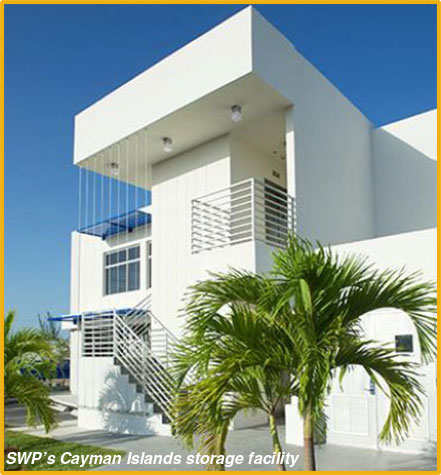 About SWP
SWP is a world-class secure storage facility located in the Cayman Islands. SWP specializes in the storage of precious metals for private individuals, companies and trusts. They also hold the distinction of providing offshore storage for precious metals held within self-directed Individual Retirement Accounts (IRAs) for American citizens.
INSURED
When you store your precious metals with SWP, your investment is always 100% allocated, segregated and insured. You always retain legal ownership of your precious metals and they can be sold at any time in the future.
World Class Security.
SWP's class III UL-rated vault is located in a purpose-built facility that also houses one of the largest security companies in the Caribbean. SWP is fully insured by Marsh and underwritten by Lloyds of London. All holdings are audited annually by an independent third-party auditor, Bureau Veritas.
Private and Confidential.
SWP is classified as an Active Non-Financial Foreign Entity. As such, SWP has no wealth reporting requirements to either the Cayman Islands government or to any foreign tax authority or government. This is particularly important for investors trying to retain their privacy, which can be challenging these days.
How It Works
The storage fees are calculated based on a percentage of the value of your precious metal holdings. The rates below are for one year and include both the storage and insurance for your holdings.
| Metal | Below $250,000 USD Value | Above $250,000 USD Value |
| --- | --- | --- |
| Gold | 0.70% | 0.50% |
| Silver | 1.25% | 1.25% |
| Platinum | 0.70% | 0.50% |
| Palladium | 0.70% | 0.50% |
| Rhodium | 0.70% | 0.50% |
If you decide to store with SWP here is how to do so while making the purchase from Kitco:
1
Open Your
Account
Complete and return your account application to Kitco. Kitco will forward the application to SWP and SWP will prepare a storage agreement and email it to you.
2
Purchase Your
Precious Metals
Purchase your precious metals from Kitco. Kitco will arrange for the products to be transferred directly to your SWP account in the Cayman Islands. You can also transfer existing metals you already own to your SWP account.
3
SWP Will
Bill You
Pay your storage fees on a quarterly basis and enjoy the peace-of-mind that comes with storing your assets with offshore. You will receive a monthly statement from SWP and an annual audit statement from Bureau Veritas.