Your browser's cookie functionality is turned off. Please turn it on to use our services.
Online Store
Buy from Kitco
Sell to Kitco
Storage Programs
Refining Services
FAQs
Feedback
Kitco online store and products reviews
Current Bid Price
Feb 24, 2017 10:00 AM
New York Time
Prices in $ USD
Exchange rate from USD

1.3227
1.3026

0.9535
0.9388

0.8058
0.7933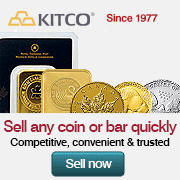 Good Delivery List
Good Delivery List bars are made by and bear the stamp of a single refiner whose name appears on one of the industry-standard Good Delivery Lists. These stringently controlled,
metal-specific lists of reputable refiners are maintained by the:
Being of guaranteed quality,
Good Delivery List bars enjoy worldwide recognition and
ready liquidity.