Your browser's cookie functionality is turned off. Please turn it on to use our services.
Current Bid Price
Aug 28, 2016 08:18 AM
New York Time
Prices in $ USD
Exchange rate from USD

1.3129
1.2929

0.9004
0.8865

0.7666
0.7547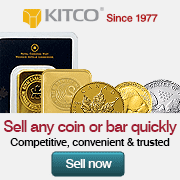 Good Delivery List
Good Delivery List bars are made by and bear the stamp of a single refiner whose name appears on one of the industry-standard Good Delivery Lists. These stringently controlled,
metal-specific lists of reputable refiners are maintained by the:
Being of guaranteed quality,
Good Delivery List bars enjoy worldwide recognition and
ready liquidity.