VaultChainTM Gold allows you to buy & sell gold digitally. It represents fine gold held physically at the Royal Canadian Mint, and uses a blockchain distributed ledger for data accuracy, real time tracking and transparent auditability.
Learn more about VaultChainTM Gold.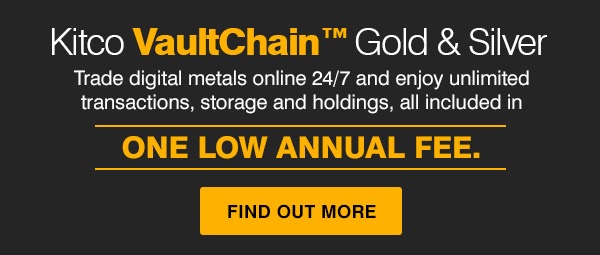 Price Per Ounce
| Qty | Wire/Check |
| --- | --- |
| 0.1+ | $2,097.00 |
| 50+ | $2,095.00 |
| 100+ | $2,093.00 |
Price Per Ounce
| Qty | Price ($/oz) |
| --- | --- |
| 0.1+ | $2,061.00 |

VAULTCHAINTM GOLD
Trade digital metals online 24/7 and enjoy unlimited transactions, storage and holdings, all included in ONE LOW ANNUAL FEE. That's right, that all-inclusive fee covers you for an entire year of trading digital metals online 24/7, without any hidden charges.
About the low annual fee
The all-inclusive annual fee is paid by accounts that contain digital assets in either gold and/or silver. The fee is prorated for new accounts, and is charged at the moment of making your first transaction. This means:
If your first transaction is done in Jan-Mar, you pay $100 + tax*
If your first transaction is done in Apr-Jun, you pay $75 + tax*
If your first transaction is done in Jul-Sep, you pay $50 + tax*
If your first transaction is done in Oct-Dec, you pay $25 + tax*
After your first transaction, active accounts with gold and/or silver holdings are then charged the full annual fee every January 1st.
*As Kitco is based in Quebec, applicable Quebec sales tax (GST & PST) applies. For details, see our Terms and Conditions
You can buy Gold digitally, and your digital gold actually represents physical gold held at the Royal Canadian Mint. Even more exciting, VaultChainTM Gold uses a blockchain distributed ledger, which gives you real time tracking, transparent auditability and data accuracy.
GOLD: INSURANCE and BALANCE for Your Portfolio
Gold and precious metals represent peace of mind for many investors, and have been described as the best insurance money can buy. Gold represents portfolio diversification. If you're looking for a strategy to hedge against stock market volatility, currency instability, and geo-political risk, investing in gold may be the right choice for you.
The Future of Physical Gold Investment
VaultChainTM Gold is not a security, derivative, future or other financial contract. It is investment grade, physical fine gold, vaulted at the Royal Canadian Mint.
What is Kitco VaultChainTM Gold?
VaultChainTM Gold is an easy, cost effective and convenient way to buy, hold and trade fine gold. It combines a high tech electronic platform with the world class storage facilities at the Royal Canadian Mint (RCM). VaultChainTM Gold buyers own 100% of their fine gold purchases, with the RCM acting solely as the secure storage facility. Each allocation of fine physical gold is validated using a blockchain distributed ledger. This technology ensures real-time tracking, data accuracy, and transparent audit-ability.
Gold Ownership with VaultChainTM Gold
As a holder of VaultChainTM Gold you have full title to your gold holdings at all times. VaultChainTM Gold provides perfected 1:1 direct ownership of fine gold, stored securely within the vaults of the Royal Canadian Mint and allocated for Kitco VaultChainTM Gold holders. VaultChainTM Gold gives you the flexibility to buy, hold, and conveniently trade gold. Physical delivery can be arranged at any time*, should you wish to convert digital gold ounces to physical gold .9999 pure.
*Subject to certain requirements, contact our team for details
Cost Savings with VaultChainTM Gold
Blockchain technology is an integral part of this efficient, direct and safe storage solution, allowing Kitco to reduce costs and pass on the savings to buyers of VaultChainTM Gold. Increased operational efficiency through automation plus reduced capital charges can make a difference on your ROI. Unlike an ETF, VaultChainTM Gold has no ongoing storage fees or management fees. With the efficiencies of its state of the art digital trading platform, VaultChainTM Gold provides one of the most flexible and low cost forms of direct gold ownership.
Security and VaultChainTM Gold
VaultChainTM Gold is held, secured and audited at the vault of the Royal Canadian Mint. This world class storage facility is highly secure, offering 1:1 allocated fine gold with perfected ownership and less uncertainty. VaultChainTM Gold holders have full title to their gold holdings at all times. Title is managed by a cryptographically secure blockchain database, used by investors to independently verify ownership.
Trading and VaultChainTM Gold
VaultChainTM Gold trades real-time spot prices in the cash market, 365 days a year, 24 hours a day. With public order book trading and simple exchange fee structures, account holders have access to the full depth of price information and liquidity.
To maximize all the benefits of the VaultChainTM Gold platform, account holders can easily transfer physical gold bars and gold coins in their personal possession to a VaultChainTM Gold account. Kitco is ready to securely convert your physical gold to pure digital gold ounces (subject to certain requirements, contact our team for details).
Physical Delivery from VaultChainTM Gold accounts
Your VaultChainTM Gold holding represents 100% ownership of .9999 pure gold bullion stored securely at the Royal Canadian Mint. Account holders can request physical delivery of this gold at any time**, choosing from many formats of fine gold. Visit Kitco's online store for many physical gold options.
** Subject to certain requirements. Fabrication and delivery fees will apply, and are based on the products requested.
VaultChainTM GOLD Vs ETFs
VaultChainTM Gold from Kitco offers 1:1 ownership, which is an advantage over ETFs and other collective vehicles.
In an ETF, each unit represents ownership in a fund or trust that in turn holds physical gold with a bank or other depository.
Each fund or trust charges an annual fee to cover management, storage, marketing and administration. Final beneficial owners do not control the underlying asset and cannot take physical delivery.
With VaultChainTM Gold, there are no fabrication costs, and no management or storage fees. This ensures that you avoid the layers of expense associated with asset management products like ETFs.
There is no intermediary trust or fund with VaultChainTM Gold. Rather, physical gold is owned directly via a blockchain database and is deliverable in full.
About Kitco
Established in 1977, Kitco has earned its reputation as one of the world's premier retailers of gold and precious metals. Kitco offers a complete line of the highest quality gold bullion bars and coins for investors, as well as other precious metals products. As well, Kitco has storage and refining services for the jeweler manufacturing industry. Kitco's news and media website (www.kitco.com) is visited daily by over half a million people around the world.
About the Royal Canadian Mint (RCM)
A Crown corporation, The Royal Canadian Mint is responsible for the minting and distribution of Canada's circulation coins. Recognized as one of the largest and most versatile mints in the world, and an ISO 9001-2008 certified corporation, the Royal Canadian Mint offers a wide range of high quality coins and related services.
About Tradewind
Tradewind was formed in 2016, and offers extensive experience in electronic trading, market structure and operations, cryptography and blockchain technology, and gold investment management. Tradewind has built the technology platform to digitize the trading, settlement, and ownership of gold. The Tradewind solution combines world-class exchange technology with VaultchainTM, Tradewind's blockchain technology tailored for gold.